What We Do
Together, we fundraise to provide comfort, care and dignity to patients and families at a most vulnerable time.
Together for Hospice is the national fundraising body for Specialist Hospice and Palliative Care providers in Ireland, including both in-patient and community services.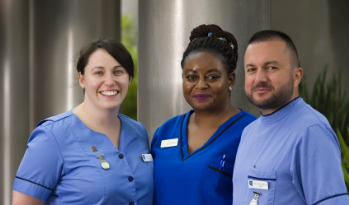 We vary in size and scale, from those with hospice facilities including an in-patient unit to Specialist Palliative Homecare services where nurses visit patients in their own homes from an acute hospital. Together for Hospice exists to support and enable these frontline services to fundraise collectively at a national level.
Our national fundraising campaigns, Hospice Sunflower Days and Bewley's Big Coffee Morning Social for Hospice have been raising funds in local communities across Ireland for almost 30 years and every euro raised locally stays locally.
In 2019, with your incredible on-going support, we raised over €2.8 million in funding and over the last 29 years we have raised over €55 million. Funds raised have contributed toward significant developments in the hospice sector, most recently with new hospice buildings completed in
Mayo and Waterford in 2019, in Wicklow in 2020 and Roscommon in 2021. These developments are testament to the on-going support of local communities for the National Hospice Movement.
About Hospice Care
Hospice Care or 'specialist palliative care' focuses on supporting people of all ages to live well with an illness that is life limiting and enabling them to achieve the best quality of life possible. It is about treating every patient with dignity and respect, helping them to plan for the future, whilst also supporting families and loved ones. As a national movement, we support approximately 12,000 patients and their families every year.
As a community focused organisation, we have a shared mission and vision: to provide the highest quality, person-centred palliative care services for all those who need it across Ireland.
Learn more about hospice services in your local area here.
Our Vision
By working with local communities, volunteers, businesses and individuals, together we can enable a future where everyone in Ireland has the opportunity to access the support and care needed when living with a life-limiting illness.
As our population ages, the demand for specialist hospice and palliative homecare services is increasing, while at the same time the financial support hospices receive from the State has continued to reduce. This means that hospices have to do more with less and fundraising plays a vital role in the delivery of these specialist services.
Core Values
Our core values serve to inspire, motivate and guide us in our work together.

Respect
We will treat everyone we meet with respect and kindness.

Support
We exist to promote, support and strengthen all Hospice and Specialist Palliative Care Providers by raising funds and awareness for the amazing work and care provided.

Integrity
We will act in an honest, open and transparent manner.

Excellence
Excellence is a goal we constantly strive towards, to get better every day in everything we do.

Care
We care about people and through listening and understanding, we can enable the best care for those living with a life-limiting illness.
Our History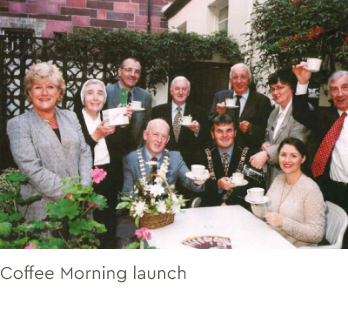 Although Together for Hospice, The National Hospice Movement is a new name and entity, our 26 Hospice and Specialist Palliative care members have been working together to fundraise for hospice services in Ireland for a long time.
You may be familiar with the National fundraising campaigns Hospice Sunflower Days, and Bewley's Big Coffee Morning Social for Hospice which our members have been running in local communities for almost 30 years.
Governance
A nominated Governance Group oversees the activities of Together for Hospice and provides strategic direction in light of the values that underpin the movement. The Governance Group consists of nominated representatives from Hospice and Specialist Palliative Home Care services and associated fundraising supporters.
The Together for Hospice Governance Group is;
Dr Sarah McCloskey, CEO, Marymount University Hospital & Hospice, Cork
Mary Flanagan, Interim CEO, Our Lady's Hospice & Care Services, Dublin
Fintan Fagan, CEO, St. Francis Hospice, Dublin
Veronica Larkin, Executive, North Westmeath Hospice, Westmeath
Jack Shanahan, Chairperson, Kerry Hospice Foundation, Kerry
Together for Hospice is based at Our Lady's Hospice & Care Services as host site.
Our Lady's Hospice & Care Services as host site will report Together for Hospice profit and loss in its annual report. Together for Hospice will continue to be described in the host site's audited accounts and all collateral will carry the Our Lady's Hospice & Care Services RCN (registered charity number) and CHY (Revenue Charity Number) as per Charities Regulatory Authority guidelines.
Together for Hospice, The National Hospice Movement is overseen by the Our Lady's Hospice & Care services board of directors;
Board of Directors
Our Lady's Hospice & Care Services is managed by a Board of Directors. Their responsibilities are:
Entrepreneurial Leadership: Providing effective leadership of the Hospice within a framework of prudent and effective controls.
Strategic Direction: Setting the strategic direction of the Hospice, in light of the ethos and values that underpin the organisation, as established by the Religious Sisters of Charity.
Performance: Approving, monitoring and reviewing organisational performance.
The Board Members:
Mr Lorcan Birthistle, Chairman
Dr Terry McWade
Ms Kay Connolly
Mr Sean Dorgan
Ms Helen Nolan
Mr Eugene Murray
Ms Carole Pollard
Mr Pat Costello
Dr Philip Wiehe
Ms Cathy Maguire
Mr Vincent Barton
Ms Hilary Coates
Mr Dermot Ryan